Let's Walk You Through Our Custom Saddle Order Process
From the initial contact to the delivery and fitting of our saddles, we are committed to assisting you every step of the way to ensure the best experience possible and providing a product that you and your horse will love and use for years to come.
Connect with us by phone at +1 403-336-8887, 1-855- 828-8887 (Canada) or email us at franco@cloetesaddles.com to discuss your saddle requirements. We'll be happy to provide information about our custom-fit Cloete Saddles, as well as our standard-fit saddle products and associated products.
If your saddle order includes a custom-fit tree, the process starts with a personalized consultation during which your horse's back profile measurements are recorded and custom options discussed.
Contact us for information on how to record your equine's back profile measurement yourself.
Once all order information has been collected a deposit will secure your saddle's place in our production line-up.
The lead time for a full custom saddle is 10 to 12 months.
When your custom saddle has been completed, it will be delivered and fit by Franco himself (if you're a local Kootenays, B.C. resident), otherwise your saddle will be mailed directly to you or your personal Cloete Saddles associate saddle fitter, who will schedule a set-up saddle fitting and ensure that your saddle fits you and your equine comfortably.
How we came to use this standardized measuring system
"I have not invented anything new; all I have done is collected the measurements of horses' backs. It was creating a simple and easy-to-use system for collecting this information, that is the revolution. The following system is an attempt to simplify this mystical procedure." Dennis Lane's words.
We first encountered this brilliant measuring system when we met Dennis Lane at a presentation on a ranch in southern Alberta, Canada. (Hans van Hees previously shared the system with him, and in turn we incorporated it into our saddle business also.)
The purpose of this system, has been to distribute it to saddle makers and tree makers worldwide, in order to have a standard method of tree fit classification, which can seamlessly be communicated and interpreted by everyone, everywhere, which makes perfect sense, as all are using the same 'language' in order to avoid miscommunication.
After thorough use of Dennis Lane's system, we enhanced this elegant measuring concept and developed it further so that its absolute accuracy has proven to be consistently reliable.
We are pleased to give credit to those who have gone before us and are most appreciative of the expertise, technique and information shared with fellow saddle – and tree makers, who in turn continue to improve the quality of service provided to their clients.
For more information please follow the link to our measuring guide Back Profile Measuring System.
Choose From Our 20 Cloete Saddle Models
We have a large range of Cloete Saddle designs which cater to various riding disciplines.
We have your traditional all-rounder, traditional/ladies wades, stock saddles, barrel racers, reiners, etc. – catering to the western horsemen and women of today.
We have competitive riders choice of our english,  endurance and trail saddles.
For those looking for something to suit a out of the ordinary horse and rider pair, we have a mounted archery saddle, Australian stock saddle, our signature patrol saddle, guide saddle, gaiter etc.
And of course, if you ride for pleasure, we have everything in between. Head over to our saddle model page to find the saddle you're looking for!
Colour is so important in personalizing your saddle. We use only the best quality leather available, to craft our Cloete Saddles (i.e. harness tanned leather, which remains in a tanning pit for four to six weeks). This specialized tanning process does not interfere with the integrity of the leather fibres and the result is strong, lustrous hides that display class and durability.
Specify Edge Tooling Options
From Greco style all the way to Aztec, you can personalize the edge tooling & carving style on your saddle.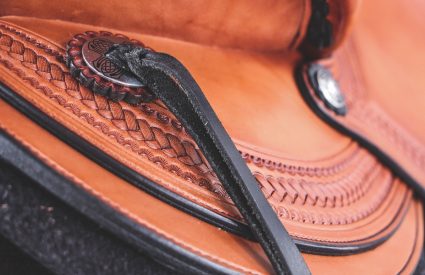 Decide on Trimming Options
Your choice of stirrups is the final touch of the design of your saddle. Make sure to choose a set of stirrups that best suits your needs and style.
See our stirrup selection
Delivery and Set-Up Saddle Fitting
Most saddles shipped within Canada will ship via Canada Post expedited mail.
Deliveries beyond Canada's borders are placed in the capable hands of either DHL Express or UPS, for your Cloete Saddle's secure shipping to wherever you are located.
If a custom saddle package includes a follow-up saddle-fitting, we might mail the saddle in advance and follow up with the saddle fitting consultation when a consultant is available in your area.
Shipping & handling fees will be added when a saddle is shipped ahead of the saddle fitting.
Non-custom saddle packages would require booking a saddle fitting with one of our consultants.